Helping our People and Community
Charlene Reuben, Executive Director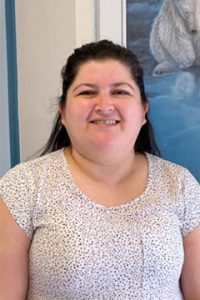 I have been working in Child Welfare at Payukotayno for over 18 years. My first position at the agency was as a Child Protection Worker and worked with the communities of Moosonee, Moose Factory, Fort Albany and Kashechewan. I worked in frontline for 5 years and moved into the supervisor position for the communities of Fort Albany/Kashechewan protection team. This provided me with an opportunity to learn about the communities and their members. A year later, I moved into the Director of Services role which oversees the Child Care and Protection teams. In 2011 I continued to progress in my Child Welfare career and became the Executive Director and this is the position I continue to hold today. This opportunity created quite the journey and never did I think when starting at this agency as a Protection Worker that one day I would become its leader.
Growing up as a young child I was raised by my grandparents here in Moosonee and later returned to my mother's care when I was about 10 years old. When I was about 12 years old we moved to North Bay where I completed my elementary, secondary and post secondary education. Once I completed my post secondary education I returned to Moosonee, where this is my home.
Over the years I have worked with so many great people who have taught me things that I don't believe I would have learned in a classroom setting. In our field of taking care of families, we too become a family and together we help one another, argue, laugh and even cry and at the end of the day we continue to take care of one another. Protecting children and supporting families is not an easy job and I have always believed that those who do this work have a special quality. The highs and lows of his job are like a rollercoaster and can never predict what will come your way next, if you love it that is what will get you through. Helping our own people and community is a privilege that we must celebrate and not take for granted.
Charlene Reuben,
Executive Director of Payukotayno and CYMS